From ComingSoon.net:
"Jim Carrey has signed on to play the lead in
Mr. Popper's Penguins
.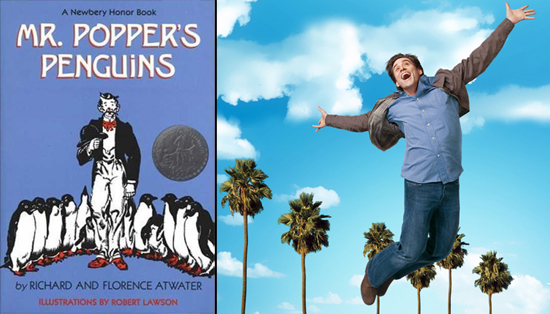 The project, announced for development earlier this year, is based on the storybook by Richard & Florence Atwater, a perennial children's classic since 1938. The story tells of Mr. Popper, a house painter whose letter to one of his heroes, an Arctic explorer, results in the gift of a dozen penguins that arrive on his doorstep.
Earlier plans were to have Noah Baumbach direct with Ben Stiller in the lead, but it was subsequently suggested that Mark Waters would helm, a report that the latest news seems to confirm."
Jim Carrey? Penguins? A comedy?
Color me interested!!!! Now if only he'd come back to Twitter.
More from MTV.com:
"The last time Jim Carrey lit up the big screen, he did so as four different CGI characters in Disney's animated
A Christmas Carol
. Now, in addition to the recently announced project
Pierre, Pierre
, with "Bruno" director Larry Charles, Deadline reports that 20th Century Fox has lined up the funnyman to star in
Mr. Popper's Penguins
, based on the classic children's book of the same name.
The film adaptation is said to be an upscale spin on the book, with Carrey in the role of the titular Mr. Popper, now a high-powered businessman who suddenly inherits six penguins. As Popper becomes increasingly attached to his feathered friends, his life unravels and you guessed it wackiness ensues. According to the script synopsis, Popper's swanky apartment turns into a winter wonderland, and he almost lands in jail.
'But thanks to his new charges,' the logline reads, 'Popper comes to understand the importance of family human and otherwise.'
Fans of the book, written by Richard and Florence Atwater, will note that this proposed film version is a departure from the 1938 original, in which Popper is a poor housepainter who receives the surprise gift of a penguin by mail after writing into a radio broadcast hosted by Antarctic explorer Admiral Drake. Eventually, one penguin turns into 12, and in order to support their expansive brood, the Poppers train the penguins to perform.
Perhaps Carrey can convince the filmmakers to reintroduce the painter aspect of Popper's character, given the actor's newfound passion for painting, which he has been chronicling via his Twitter account. No word on when production is scheduled to begin, but Mark Waters (
Mean Girls
and
The Spiderwick Chronicles
) is set to direct."